Scarecrow
Art Studio Photo Galleries
I have set up a series of Photo Galleries for some of my artwork.
There are a lot of pictures here so I have grouped them into albums.
Each of the photos below is a link to a gallery of photos in that category.
Each gallery will give you different options for how to view the photos.
Click the photos below to take you to those photo albums on Google.
Once there, you can navigate between the different photo albums.
Enjoy.

Harley-Davidson Photo Galleries
Most of my artwork was done at national rallies, my studio and on showroom floors at Harley-Davidson and Honda Gold Wing dealerships.
These are some photo galleries for some different Harley touring bikes. Some pictures will repeat if the designs fall into another category.
More Harley-Davidson Photo Galleries
I have painted on so many Different Harleys over the years I've had to group them into multiple categories.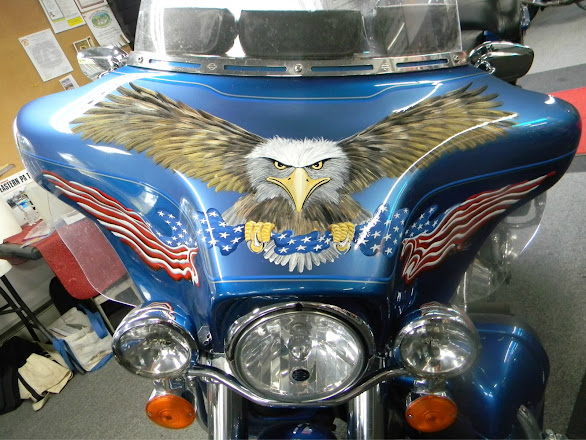 Harley Fairings
Harley Fairings are a great place for some elaborate and detailed artwork. This links to photos of a variety of fairing designs.
Gold Wing Photo Galleries
I have painted all kinds of scrolls and designs on hundreds of Gold Wings over the years.
Gold Wings have always had a lot of surface area to paint on and people have challenged my creativity with many unique ideas.
While Honda does not make a Gold Wing trike, there are several companies who will convert a 2 wheel bike into a trike.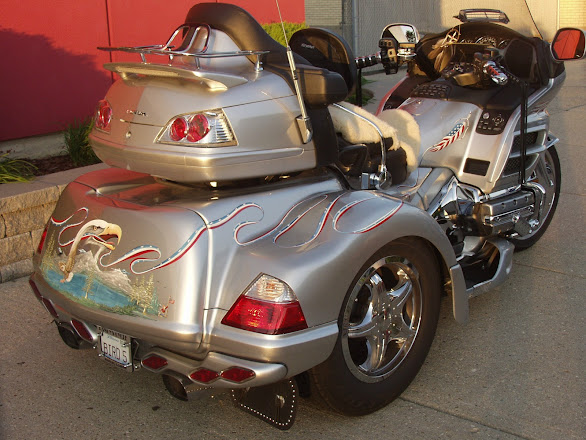 Gold Wing Trikes
Honda does not make a factory trike but there are a several companies that sell conversion kits that look like factory trikes and I have painted on hundreds of them!
More Photo Gallery links to various designs
Below is a series of photo links to galleries categorized by design... eagles, feathers, flames, etc.
Choose any design you like for your own bike from any of these photos, regardless of which bike you see it on,
or bring me your own photos of anything you want painted.
(Showing me pictures of what you like is the best way for me to know exactly what you want painted, whether they are my pictures or other pictures you find.)
You may call, text or email pictures of what you want painted to receive a cost estimate and schedule an appointment .
More Bikes, Cars, Trucks, Scooters, Sidecars, Etc.
Below are photo galleries of more bikes, cars, trucks, trailers, helmets, etc.