Distinctive Motorcycle Art since 1980
Scarecrow Art Studio
Free-Hand Motorcycle Artwork & Stripes
Free-hand, paintbrush artist specializing in eagles, scenes, flames, feathers, cartoons, pinstripes & requests on GoldWing & Harley-Davidson motorcycles, while you wait, with more detail than airbrush.

Regarded, by many, as the #1 freehand motorcycle artist in the United States,
Scarecrow has the unique ability to
load 3 or 4 different colors on the same brush, at the same time
,
giving his finished artwork & stripes a 3 dimensional quality that is not available from other artists.
This very rare technique is called Sumi-E Art.
It involves leaving the background color of the motorcycle as part of the finished art design.
All of Scarecrow art work is done freehand, while you wait & watch (if you want).
There is no disassembly of your bike required!
There is NO clear coat required...........EVER!


All artwork is done using an industrial, exterior, sign paint,
designed to stay in the weather 24 -- 7 - 365!


All Scarecrow's work is guaranteed for life!
If it
ever
comes off, Scarecrow will fix it for
free
!
Experience Matters in Art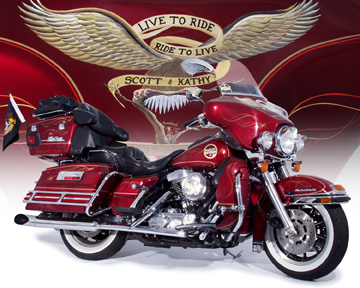 Decades of Harley Art
After Harley-Davidson created the Harley Owners Group (HOG), they organized and promoted a series of regional and national rallies that would attract thousands of riders from all over the country. The national rallies were held in a variety of cities over the years and included first class entertainment, food and activities, as well as an exclusive, invitation only, vendor mall for their members to shop and purchase unique, quality items for themselves or their bikes. In addition to their own National HOG Rally, HOG would also set up at Daytona Bike Week in March and Sturgis Bike Week in August. I was one of the 3 Pinstriper/Artists (along with the late, great George Williams and the late, great Art Perfetti) who was approved by HOG to work in the HOG Vendor Tents. We attended dozens of these events throughout the 90s and 2000s and I painted on hundreds of Harleys at these amazing shows. You can link over to my Harley Photo Galleries to see some of the amazing bikes I had the honor to paint on at some of these events.
Wing Dinging
For our first 4 years on the road, we worked exclusively on motorcycles dealership showrooms, entertaining their customers and painting on their new bikes before they were sold. The first time we decided to try our skills at a rally was at the Gold Wing National Rally at the Tan-Tar-A resort in Lake of the Ozarks, Missouri. We were cruising through the midwest in 1984, as we did each summer. Several of our customers suggested we set up at this event and we figured... "Why Not?". My multi-colored stripes were so unique and different from anything riders were used to seeing that we were swamped... lined up out the door! After that, we set up and worked at every national Wing Ding rally until the show shut down for Covid in 2020. I painted on hundreds of Gold Wings at these rallies. Click through to my Gold Wing Photo Galleries to see some of the Gold Wing artwork that I did at some of these events. FUNNY STORY (at least I think it's funny): A lot of Gold Wing riders like scenes & murals their bikes. Their bike shows were always broken down into categories... stock class, pinstripe class, mural class, etc. Throughout the 80s and 90s, bikes I painted on won a lot of trophies at these events, to a point where judges started reassigning bikes I'd striped into their mural class because of the small signature Scarecrow that I painted on every bike. They obviously couldn't compete against bikes with full blown murals, so I started painting my Scarecrow signature small enough to cover with a dime... in case they wanted to enter the bike in a bike show without getting bumped into a mural class.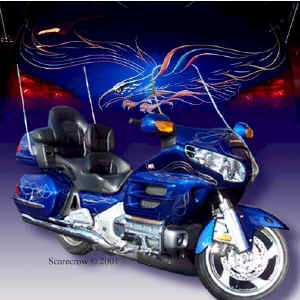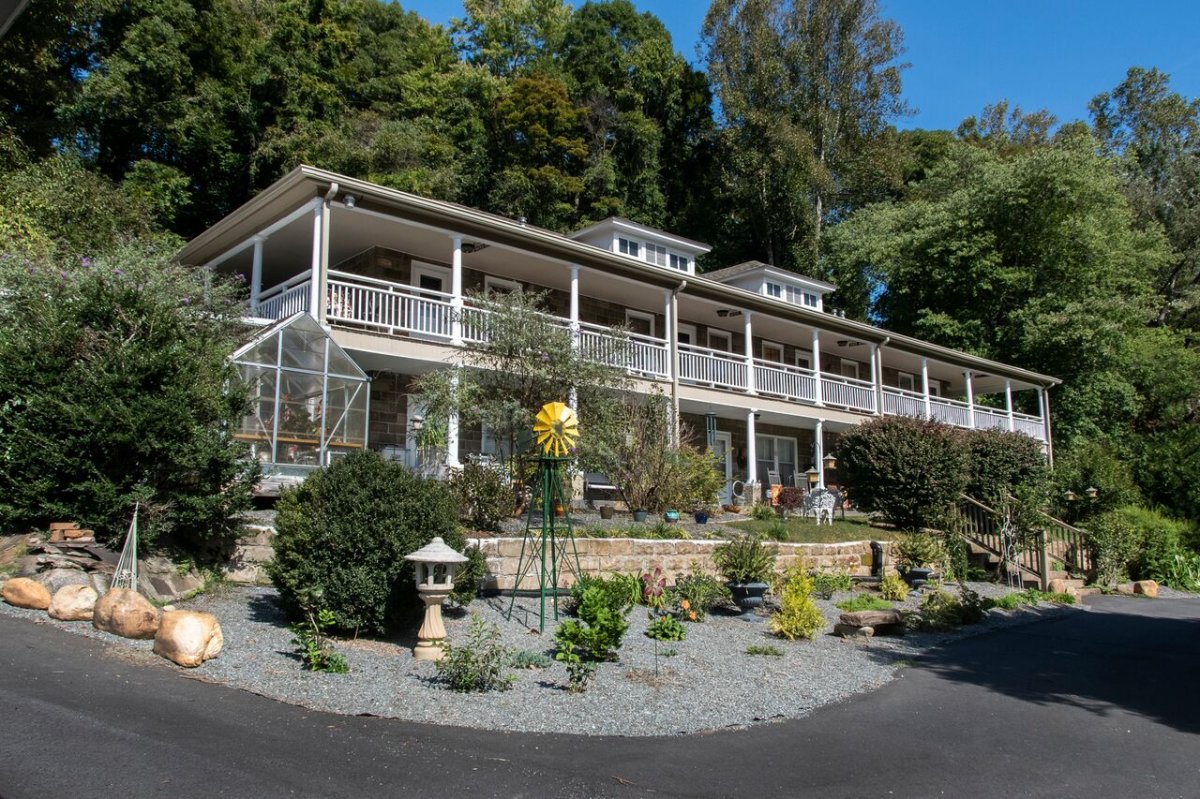 Calhoun House Inn & Suites
We own a historic Inn in the Great Smoky Mountains of North Carolina where our customers can stay in a spacious suite (decorated with items we collected in our travels) and enjoy our beautiful scenery, our quaint little mountain town, take a scenic ride on an old steam train or just ride their bikes on some of our beautiful, winding, mountain roads.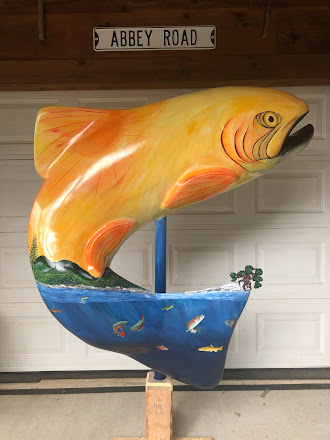 Trout Statues
I am told our little town of Bryson City has more trout per mile in our rivers than almost any place in the US. Fly fishing is a huge outdoor activity in the Smokies and our town celebrates that heritage by placing several trout statues around town. This link will take you to photos of the 3 statues that I painted, including a series of progress shots and close-up shots. One is a Rainbow Trout, another is a Brook Trout and the third is an abstract, over/under water scene with Smoky Mountains, a variety of fish swimming under the water and a Scarecrow fishing in a boat. I also sculpted a lone tree on an island at the end of his tail.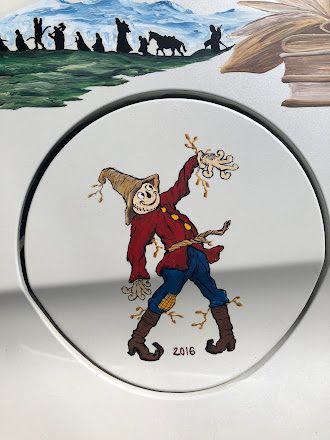 Fit Books
Our children traveled all around the country with us for most of their youth. They both still love to travel but now they explore other countries as well. Our daughter loves the art and also LOVES to READ. When she bought her first new car she asked me to paint some of her favorite stories on her brand new Honda Fit.
I painted a stack of books with the stories coming out of the pages. This links to photos of those stories. In total there are 10 different books represented here and I think she only had one person in 8 years who could name all 10 stories. Can you?